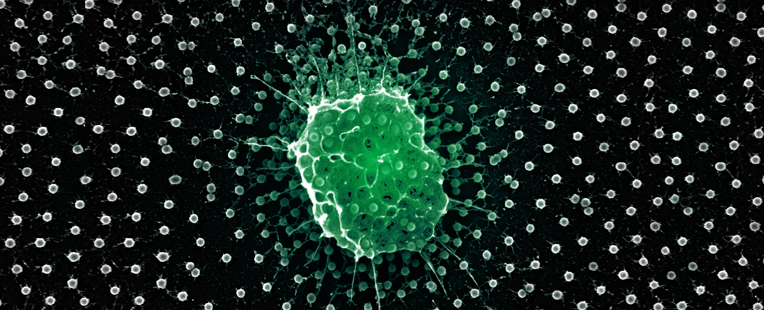 Research
Coordinated research projects on national and international level.
For over 30 years, science at the University of Bayreuth has been shaped by its collaborative research centres, research associations, EU-sponsored projects, and DFG-sponsored research training groups.

For example, polymer and colloid research is a central topic of Collaborative Research Centre 840 "From Particulate Nanosystems to Mesotechnology". This research centre follows in the tradition of Collaborative Research Centre 213 "Topospecific Chemistry and Toposelective Spectroscopy of Macromolecular Systems: Microscopic Interaction and Macroscopic Function" and Collaborative Research Centre 481 "Complex Macromolecule and Hybrid Systems in Internal and External Fields". A €15 million grant towards the establishment of the BPI ("Bavarian Polymer Institute") represent a further milestone.This institute is led by the University of Bayreuth in cooperation with the Universities of Erlangen-Nürnberg and Würzburg.
International Cooperation
The focus area Polymer & Colloid Science works together intensively with some of the world's leading centres of polymer and materials research. Over the years, the focus area and its partners have benefitted from successful research projects, the exchange of doctoral researchers, and access to the various scientific institutions.
This diagram illustrates the various research fields and the how the focus area is organized: