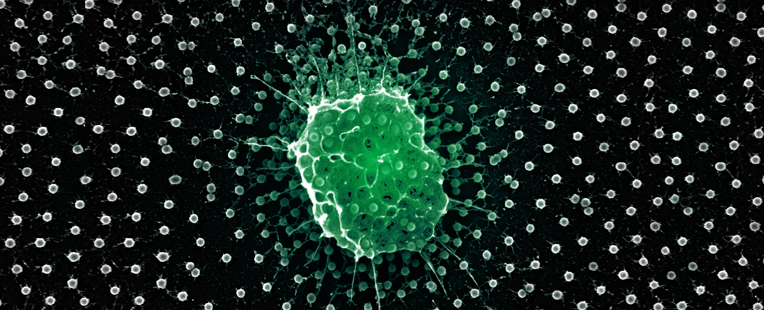 Research Centre for Bio-Macromolecules (bio-mac)
Research Centre for Bio-Macromolecules (bio-mac)
The Research Centre for Bio-Macromolecules is one of the University of Bayreuth's central institutes.
The bio-mac research centre addresses research topics in the areas of naturally occurring macromolecules such as proteins and nucleic acids, the interactions between them, their interactions with ligands, effectors, and cofactors, and also their interactions with synthetic macromolecules.

To this end, the centre applies methods from biochemistry, molecular biology, microbiology, and especially from biophysical chemistry. Applications of the centre's research range from molecular medicine to materials science.
Core areas include metalloproteins, receptors, transcription factors, allergens, electron-transfer proteins, redox behaviour of proteins, pigment protein complexes, and nanoparticles.

Main processes: nuclear magnetic resonance, x-ray crystallography, bioinformatics, optical spectroscopy, light scattering, and small-angle scattering.
Keylabs:
North Bavarian Centre for High-Resolution NMR Spectroscopy (NZN)
---
Director:
Prof. Dr. Paul Rösch

E-mail: office@bio.mac.eu
Phone: + 49 (0)921 55-3540
Fax: + 49 (0)921 16 49 04 59
---
Address:
Research Centre for Bio-Macromolecules
University of Bayreuth
Room1.2.03 (BGI Building)
95440 Bayreuth
---
Additional links:
Research Center for Bio-Macromolecules