Government of Bavaria: Energieforschungsvorhaben
SolTech - Solar Technologies Go Hybrid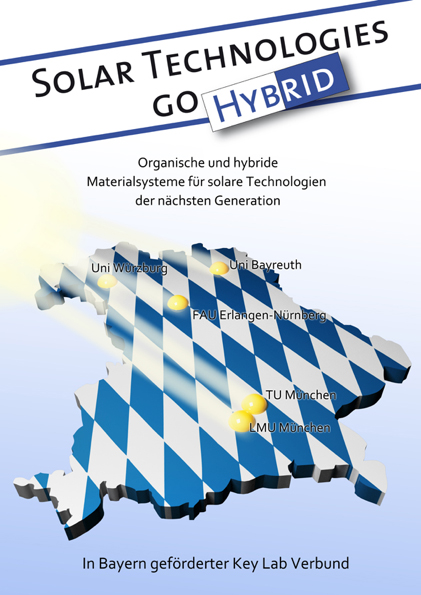 Solar Technologies Go Hybrid (SolTech)

SolTech is a € 50 million interdisciplinary project initiated by the State of Bavaria to explore innovative concepts for converting solar energy into electricity and non-fossil fuels. Research by chemists and physicists at five different Bavarian universities will be funded for an initial period of five years (2012-2021).
Each of the five universities has set up a well-equipped laboratory, the so-called key labs, integrated into existing internationally recognized research centres. The new laboratories will complement each other in terms of their individual research areas and will form a close-knit network. This network is intended to leverage the initial investment by initiating further innovative top-level research projects within the network of participating locations. In North Bavaria, research is focused on organic materials: Bayreuth will concentrate on polymers, while Wurzburg's research will focus on small molecules that combine into larger functional units . In Erlangen, researchers investigate nanotubes and other materials. Finally, the two Munich Universities conduct research on inorganic materials and hybrid organic-inorganic nanosystems.
Funding period: 2012 - 2021
---
Coordinators of the University of Bayreuth:
Prof. Dr. Mukundan Thelakkat
Chair of Macromolecular Chemistry I
E-mail: mukundan.thelakkat@uni-bayreuth.de
Phone: + 49 (0)921 55-3108

Prof. Dr. Hans-Werner Schmidt
Chair of Macromolecular Chemistry I
E-mail: hans-werner.schmidt@uni-bayreuth.de
Phone: + 49 (0)921 55-3200
---
Additional links: